Raspberry Almond Oat Bars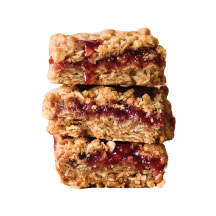 Raspberry Almond Oat Bars
Almond oat butter crumbs with a layer of sweet strawberry preserves.
Bars: 12
Servings: 12
Size: Approx.
Ingredients: Flour, Butter, Oats, Strawberry Preserves (Strawberries, Sugar, Cane Sugar,
Concentrated Lemon Juice, Fruit Pectin), Almonds, Sugar, Brown Sugar, Baking Soda, Salt.
Storage: Individually wrap and keep in an air-tight container at room temperature
for 1-2 days; refrigerate 3-5 days; freeze 1-2 weeks.